Stripe is one of our most popular billing system integrations in ChartMogul. Over the last seven years, we managed to import tens of millions of Stripe customers from over 10,000 ChartMogul accounts. As impressive as this may sound, this number will continue to grow and we have to ensure that our Stripe integration is scalable and robust enough to attend to the increasing needs of our existing and future customers.
With this in mind, over the last few months, we've been working hard to deliver a new version of our Stripe integration and I'm very excited to tell you it's finally live.
The new Stripe integration is live for all new accounts, and for existing accounts using Stripe it will be gradually rolled out in the coming weeks. We'll be in touch with you about the migration so you know what to expect.
Increased transparency on the Data Platform
The new Stripe integration will directly access our Data Platform – this will allow you to see exactly how your Stripe data maps to your customers, invoices, plans, and transactions into ChartMogul. Consequently, this makes it easier to understand how your metrics are calculated, thus giving you a better understanding of the forces that are impacting your business. We now display the data we've imported from Stripe to the Data Platform in the table shown below.
This behind-the-scenes view allows our users to audit the data as it's being piped into ChartMogul. We believe that this is a big step to ensuring that the numbers you see in ChartMogul can be traced back to transactions in Stripe, and therefore, can be trusted.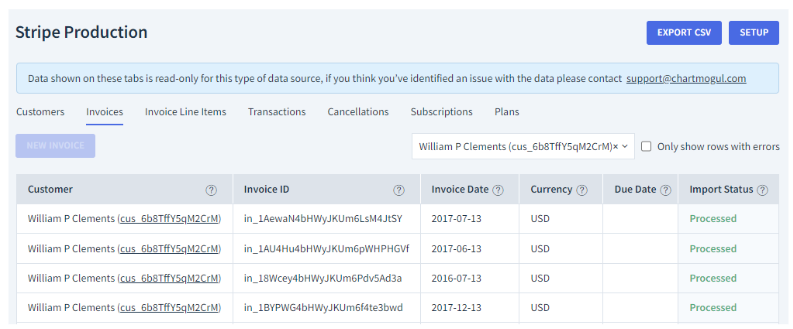 You also have the option to export your data to a CSV file. When you click EXPORT, ChartMogul emails you a link to download your file. You can then work with your data as you see fit in its new cleaned and usable format.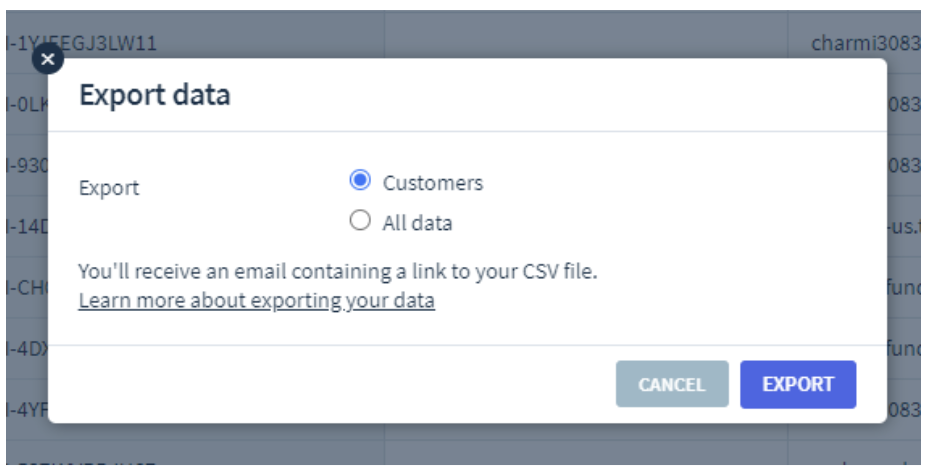 Better breakdown of amounts
With the current version, if you apply any tax, discount and fees, they will be listed down as separate line items.

With the new Stripe version, we split them into columns to provide you with a clearer breakdown of how your taxes and discounts are applied to your invoices.

Improved Stripe multi-plan support
Billing systems like Stripe allow customers to add multiple components and add-ons to a single subscription. Such subscriptions and their components can be seen within an individual customer's page.
With the current implementation, you can't easily check which components or plans belong to the same subscription as you can see from the image below.

With the new version of our Stripe integration, we've improved this by grouping all the components within a single subscription together. The subscription table can be expanded to show the contribution provided by the different components a subscription has or has had in the past.

Update customer details automatically
With the old version, any customer profile updates in Stripe won't reflect in ChartMogul. As a result, you'd have to manually update your customer records in ChartMogul to sync these changes.
With the new version, any customer profile changes you do in Stripe will now sync to your ChartMogul data. This is to ensure that the email, company name and customer name in both Stripe and ChartMogul are identical. In turn, any edits made in ChartMogul will be overwritten by edits you do in Stripe. If you wish to avoid this and keep the old behavior in your account, you can request this by sending an email to support@chartmogul.com
Full customer import
ChartMogul will now import all Stripe customers. With the old version, ChartMogul only imports customers when they have at least one successful transaction. This doesn't give users full visibility over their customers especially when you want to track the number of leads in your ChartMogul account.
New features to expect
Open Invoices Support
You've asked and we've listened. As we continue to make improvements to our Stripe integration, we are working on a new data setting that will allow unpaid subscriptions to generate MRR in ChartMogul. We know how important it is for our customers to have closed/won deals accurately reflected in their MRR, even if those invoices have yet to be paid. At the moment, Stripe only generates MRR if we receive a successfully paid invoice. In the next release we'll support open invoices to give you more flexibility and greater insight into your metrics.
Define when you want MRR to be recognized
With the new Open invoices feature, you now have the ability to control how and when subscriptions and MRR data are created.

We're excited to announce this new version of our Stripe integration. Our Data Platform will provide greater transparency in the data you're sending from Stripe so you can better trust the metrics in your dashboards. On top of that, we're adding even more features to ensure accuracy in your numbers across our integrations. Get in touch with us and let us know what you think about our latest upgrade. We'd love to hear any feedback you may have.
---