Retention isn't a silver bullet, but in SaaS, it's the closest thing to it.
Why is retention so pivotal? What does good retention look like? And does higher retention mean higher growth? We analyzed it all in our inaugural ChartMogul SaaS Retention Report.
Here are the four insights that stood out in our research:
---
Companies with best-in-class retention grow at least 1.5-3x faster than their peers
On average, SaaS businesses with a net retention rate of over 100% grow 43.6% per annum. In comparison, businesses with a net retention rate of less than 60% grow at just 13.1% per annum. See chapter 6 in the report for more on how retention impacts growth.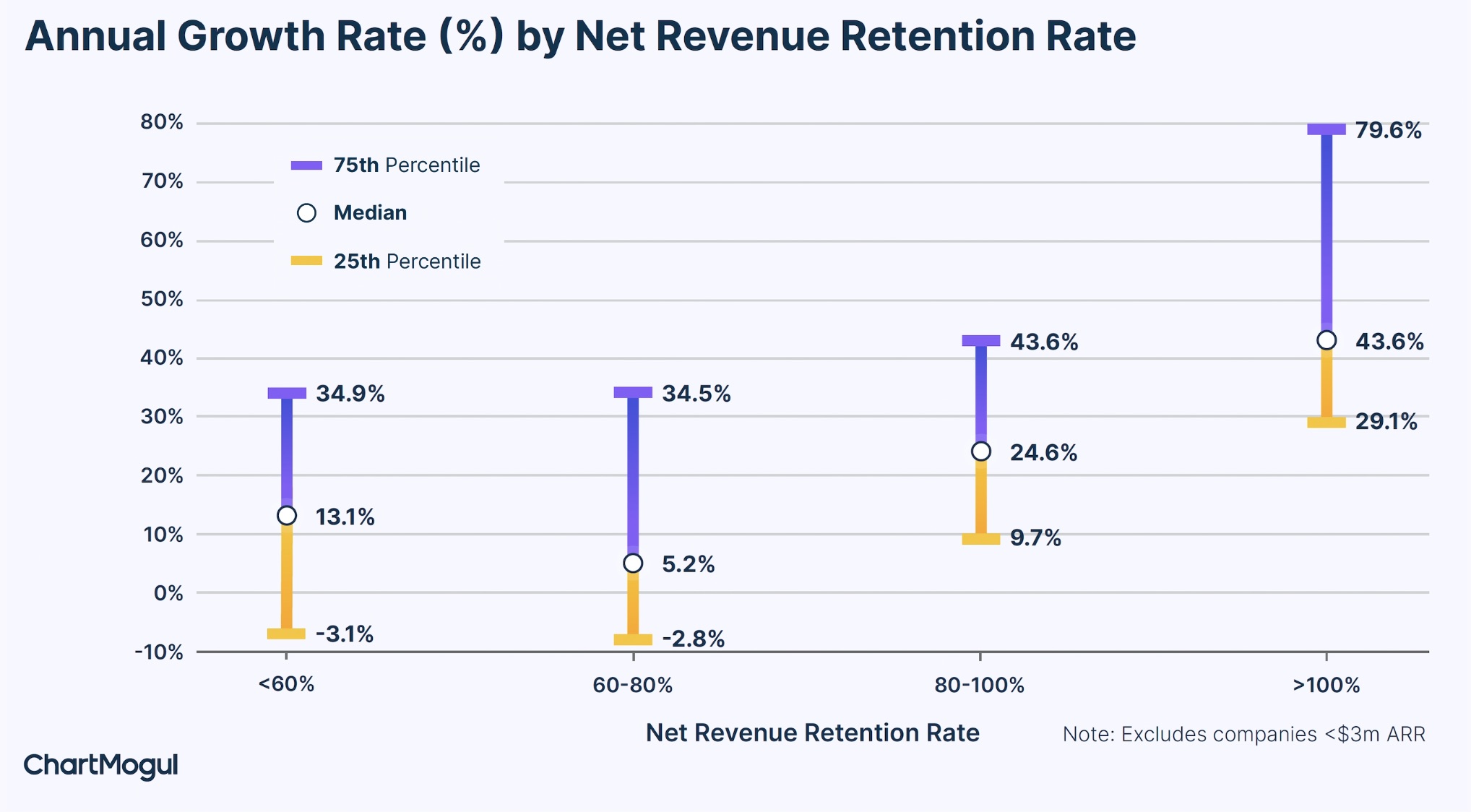 Not just better growth, a high net retention rate can also help you build a more capital-efficient business, and even get higher valuations from investors.
"We really like this metric because it encapsulates both the business's ability to retain — so minimizing churn — and also their ability to upsell. That's super important, not just winning new logos in B2B software, but adding additional products, expanding your platform, cross-selling, and increasing usage."

Jess Bartos, Investor, Salesforce Ventures
B2B SaaS businesses enjoy higher net retention than B2C SaaS
How your business operates depends on who you sell to. Companies are a lot more similar at a particular average revenue per month (ARPA) band than you'd expect, especially in terms of retention. B2C companies have a lower ARPA compared to B2B companies. The length of the sales cycle, the tenure of your contract, discounting, onboarding, the type of customer support, and even retention strategies all depend on your ARPA.
Only 2.7% of SaaS businesses with an ARPA less than $10/month have net retention rates over 100%. In contrast, 41.1% of SaaS businesses with an ARPA over $500/month have net retention of over 100%. See chapter 2 in the report to learn more about net retention benchmarks.
It's hard for B2C businesses to have high net retention rates. That's because, in B2C, churn is higher and expansion is lower. Churn is higher because of a lot of knee-jerk buying by the individual customers and expansion is lower because there are fewer upselling and cross-selling opportunities.
Retention becomes more important as SaaS businesses enter the post-PMF growth phase
What's a good net retention rate, differs by the stage of business you are in. In the pre-product market fit stage of the business, net retention is usually poor. As startups grow and find product-market fit, net retention improves. Finally, as companies reach scale, and become category leaders, net retention often goes over 100%.
A net retention rate of less than 100% means that your ARR decays. This means that you have less ARR today than a year ago from the same set of customers. Whereas, a net retention rate of over 100% indicates strong product market fit and showcases your ability to compound your revenue from your existing customer base.
When benchmarking, always keep the stage of your business in mind.
Businesses with ARR in the range of $1-3m have a top quartile net retention rate of 94%. Those in the $3-15m ARR segment, have a top quartile net retention rate of 99%. Businesses at scale with ARR in the range of $15-30m have a top quartile net retention rate of over 105%.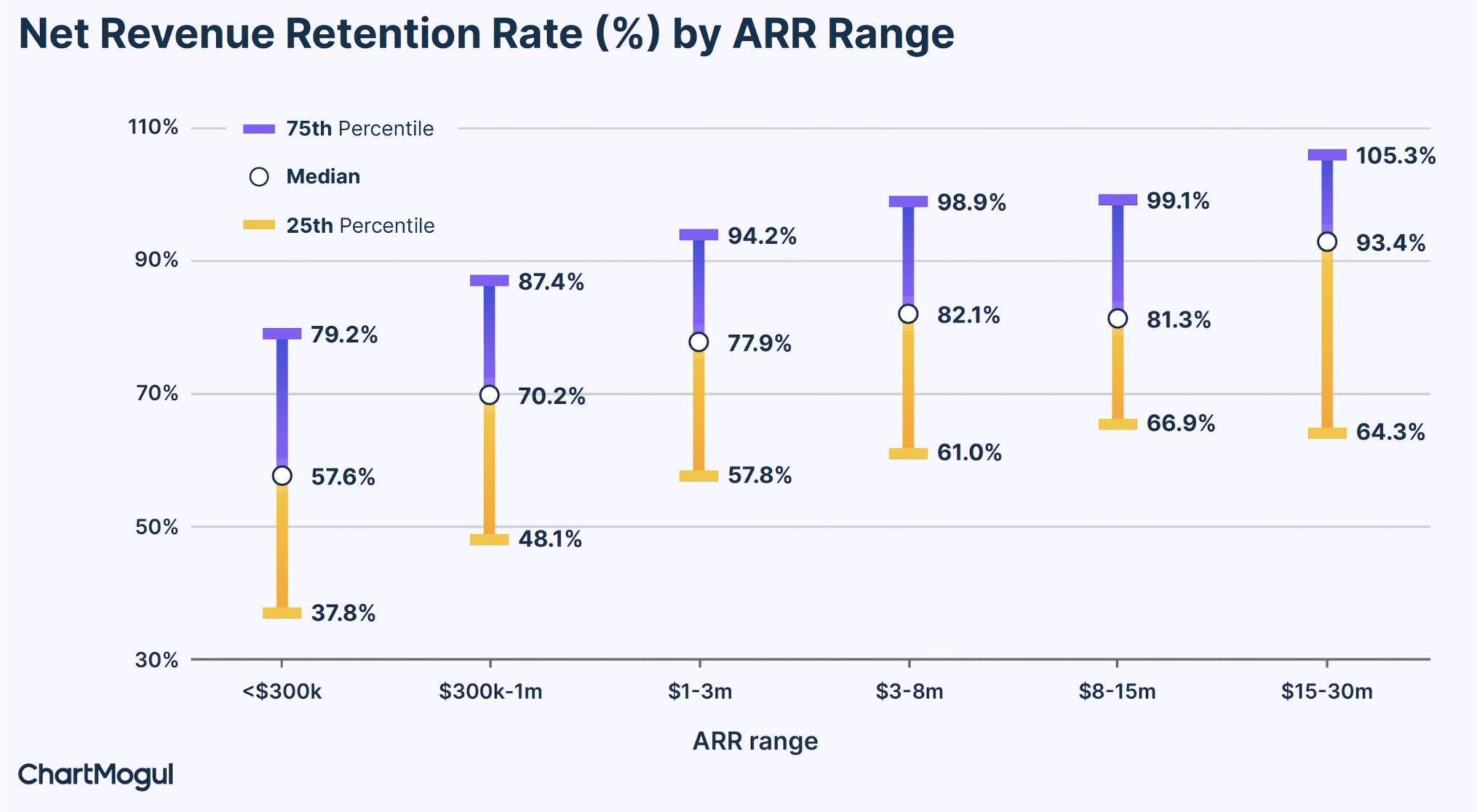 "Not every dollar is created equal, especially in the venture world. A retained dollar is worth a lot more than a newly acquired dollar that has yet to renew."

Daria Danilina, Co-founder, Salesroom
Retention in 2022 was harder than ever
More than half of SaaS businesses had lower retention in 2022 compared to 2021. A challenging macroeconomic environment meant that subscribers re-assessed and cut their SaaS spend. This is in sharp contrast to 2021 which saw almost 70% of businesses having a higher retention rate in 2021 when compared to 2020. Learn more in chapter 6 of the report.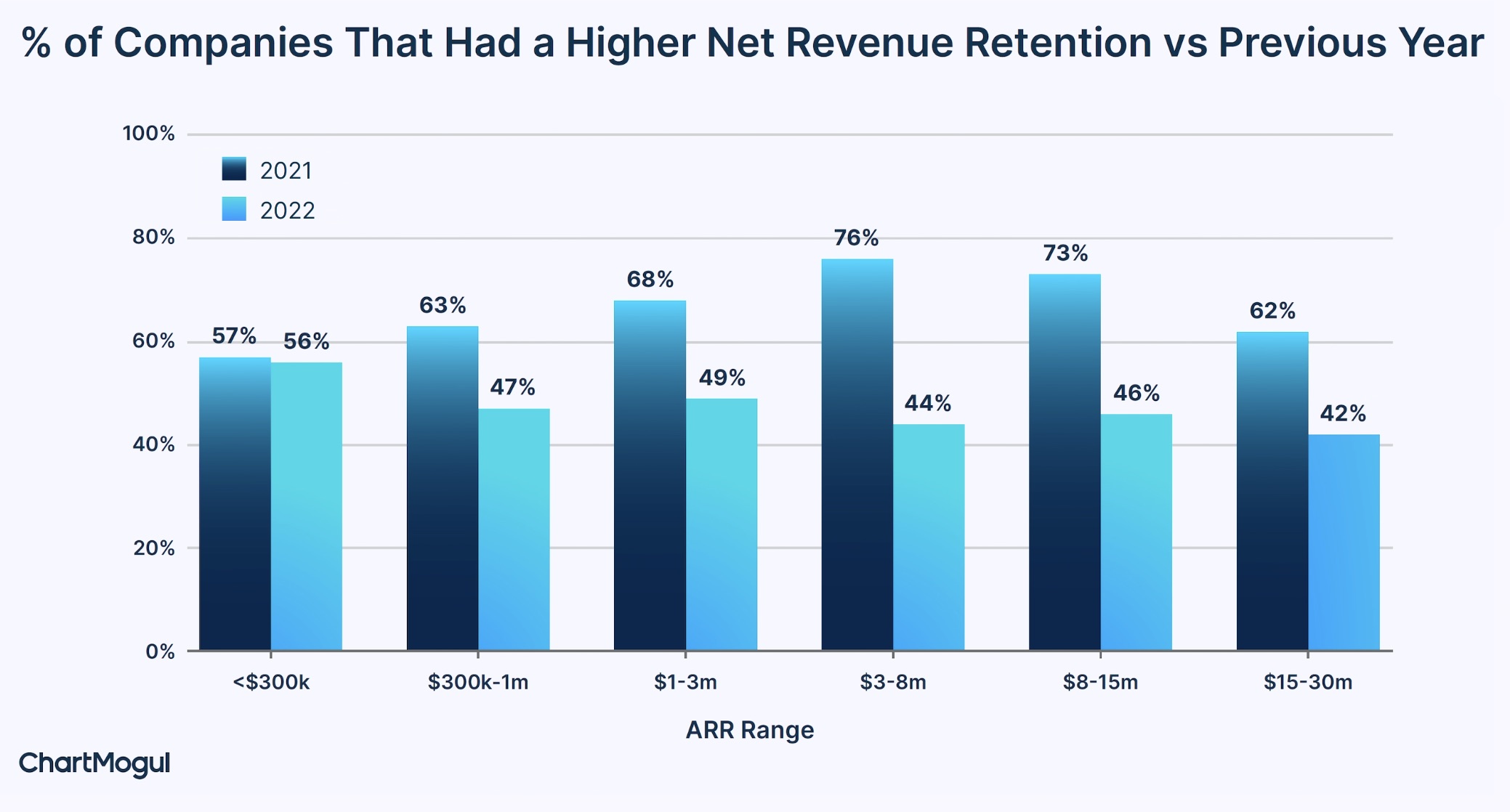 This trend of retention being lower in 2022 vs. 2021 is not unique to SaaS startups and scaleups. Even SaaS behemoths like Snowflake also saw their retention come down from the highs of 2021.
---
Download the ChartMogul SaaS Retention Report
These insights only scratch the surface – there's a lot more data and charts for you to explore! We share all our learnings in the ChartMogul SaaS Retention Report.
What is retention and why does it matter?
What are some strengths & weaknesses of the net retention metric?
What is a good retention rate (net, gross & customer)?
What percentage of companies have customer retention over 85%?
Does a higher gross retention rate mean a higher growth rate?
​​Does a net retention rate over 100% mean you can grow organically forever?
What is a good 3 and 12-month customer retention rate for new customers?
​​What percentage of revenue added comes from expansion?
And many more insights…
Download the PDF now.